The Association's Activities
The JAGA, founded in 2003, is a group of scholars and professionals working in many fields and interested in the improvement of the adult guardianship system in contemporary Japanese society. Members address the various issues of family support, the responsibility of local authorities (municipalities) and communities, collaboration with the other welfare system consisting of long-term care insurance, and safeguards against the abuse of elderly people. They provide practical guidelines for capacity assessment, discuss ethical codes for guardians, pay careful attention to how medical decisions can be taken on behalf of adults incapacitated by severe mental disabilities, and conduct comparative studies in law as well as in other areas related to the interdisciplinary study of the adult guardianship system.
Among its activities, the Association publishes the Adult Guardianship Law Review, sponsors annual conferences and educational workshops, and fosters the development of academic programs for the public. Our prime objective is the further improvement, penetration and reform of the system of adult guardianship law. We want this system to become more accessible to all who may need it.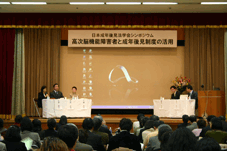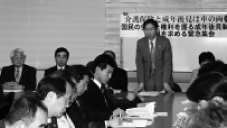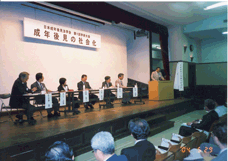 Forthcoming Activities
JAGA Annual Meeting
Toyo University, Tokyo
31 May, 2008
The Association's Publications
The Association regularly publishes materials of three kinds. All members receive them upon payment of membership dues.
The Adult Guardianship Law Review is published and sent to all members (and sold to many non-members) every year. The Review includes papers presented at annual conferences and occasional symposia; records of panel discussions, articles, and translated materials contributed by guest speakers from abroad.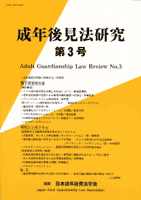 The JAGA Letter is sent to all members twice a year. The JAGA Letter conveys news about the Association to members, contains reports on the official activities of the Association, announces forthcoming conferences and various activities, gives notice of recent publications, and provides updated information relative to adult guardianship law. The JAGA Letter is also a forum for communication among members with different backgrounds.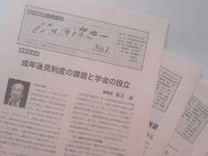 The Annual Survey of Adult Guardianship Law is published annually, having been compiled by each working group. The Survey provides information on current developments in the adult guardianship area